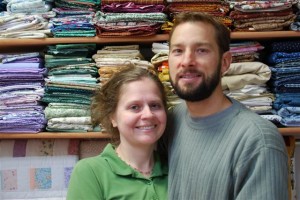 I have an amazingly loving (I'll add really handsome as well) and supportive husband, (he doesn't always have a beard 🙂 ).
I have my own parents and my husband's parents his two siblings, and one brother in law.  I have four sisters who have four wonderful husbands (one is not quite married yet, but almost).   Then I have two nephews and four nieces.  Most precious of all, I have the brothers and sisters in the church as my support and encouragement through life's ups and downs.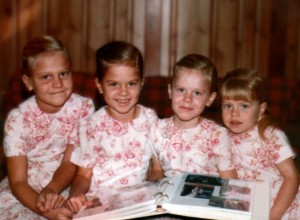 I was born and grew up in Belize , Central America, and moved to the USA in 1998.  In Belize I grew up in a German Mennonite home which was in a Mennonite community.   I learned about quilting and sewing at a young age.  All the women sewed and quilted.  It was a way of life.  All the dresses and quilts were homemade.
As a child I learned to sew my own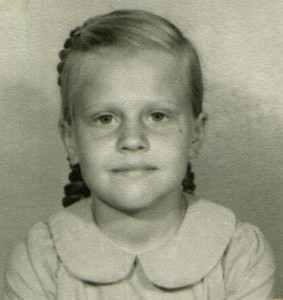 clothes and even pieced a small doll quilt (which I still have–although never finished it.  It's just the top) using my mom's scraps.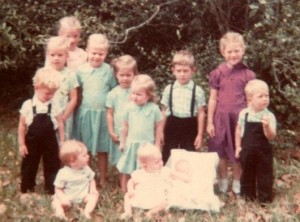 Also I got to go to the sewing circles my mom and her sisters, my aunts, would have and play with my cousins.  These were fun days.
As I got older I began joining in on the quilting.  From here my passion for quilting has blossomed, until now a day hardly goes by that I don't do some form of quilting in my sewing room, or at least think about projects I want to do, and look at quilting magazines, or even dream about quilting in my sleep.
About two years ago I joined  a local quilting group, informal- at -home group.  I learned about them from one of my customers, whose first sampler quilt I hand quilted.  I have so enjoyed the time together with these dear ladies and I have made a small sampler quilt myself learning new techniques and so many other things.
Since quilting was my hobby and I didn't like to be away from it and I needed to make an income, I turned to doing it for others as a business.  Now I can do what I like to do best and make an income too, but it gives me less time to just make whatever quilt I want for myself or as a gift to someone I love.  But, I do get to see so much more of other's work, beautiful quilt tops they make and have me hand quilt and finish for them, or I get to finish their incomplete quilt project that's been sitting in their closet for years.  I also get to see many very old quilts, 1930's and 40's that have been left unfinished to family and I get to complete such a lovely work of art.  I really enjoy seeing a quilt completed and ready to use, or put on display for all to admire.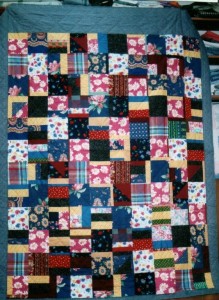 I think my favorite type of quilt is a scrap quilt.  Yes there are some that look gorgeous and others that don't look good but are sure practical and comfy.  I was raised to be very very frugal.
One little example of my grandparents' on my dad's side;  They were millionaires, or at least close to it, in their later life, but you would never know it from their way of life.  They lived on a farm, and when they moved from the big farm house to a smaller house after the kids all left home, they moved into a tiny house, with one small bathroom, a bedroom, small kitchen ,and living room.  The living room had a bed on one end of the room, where there was a line hung from wall to wall on which hung a curtain which could be closed if they had guests stay the night.  They lived a very simple life.  My grandma didn't even want a double sink for her kitchen since she had an old single one that she could use to save money.
My grandparents sent thousands of dollars to needy ones in other countries.  When my dad was young, with about 7 siblings (he now has 12) one of my aunts and one uncle had polio, and the family lived dependant on the community.  Many times there was hardly any food on the table.  My dad remembers the time they counted their beans in their plate and complained that the other had more than they.  Or, they had a watery rice soup, so the kids would find berries and wild yams or cucumbers in the jungle.  But later in life, the Lord really blessed them with a good income, and so my grandparents could return the favor to the community and were able to help many others in need.
I'm really happy to have had wonderful patterns in my life.
I love to save the little scraps and then to see a gorgeous quilt come out as a result, it gives me such a feeling of accomplishment.  I've created something so treasured and actually it's a piece of art, from some scraps that some might just throw away.
I've been married for five years and don't have any kids.  So, my husband and I are looking to the Lord how we can fill our hands with His wonderful children.  So many, actually all of us, need the shepherding care.  We need to shepherd His sheep, and that is in so many ways.  Opening our home for college students and others to lay back and relax, eat and do their homework or whatever and get the shepherding care inwardly as well as outwardly.
Right now we live upstairs at my parents' place.  So, we do have a small home of our own.  Home is where the heart is, right?
Three years ago when my husband got out of the air force, we moved in with my parents.  My husband began helping my dad with his fence building business, and even built a website www.A-Better-Fence-Construction.com.  Since then the business has really flourished.  But, my husband would rather build websites and or help others build their own, than work outside in the really cold and the really hot weather.  He's working on it in his extra time.
I'm most of the time in the sewing room and doing all the other work that comes with a housewife's duties.  Plus, I've created a beginning quilting sister site:  Learn How To Make Quilts which gives awesome and fun quilting instructions by easy to follow video.  Thus, making beginners into quilters!
Well, what else do you want to know about me?  I guess you'll have to ask questions or just follow me on my blog, and learn about what I do and what I like to make in the sewing room and in other parts of my life.