(Give Away is now closed)  And the winner is number 20 (via Random org number generator) out of 44 comments  which is
Wow, I sure haven't been on here for a while.  So very busy with other things, like traveling and buying a fixer-upper house.  But, I've been having my mind set on doing a GIVE-AWAY like other ladies do on their blogs, and Mother's Day, I thought was the perfect time to start.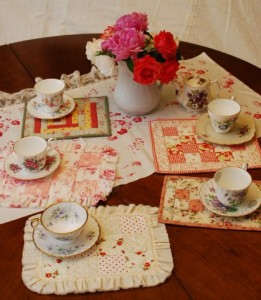 Not that I have much more time on my hands now, we are still in the middle of remodeling our house.  The good thing is that we don't need to be out of our present location just yet.
Well, to start off, I figured I would do a Mug Mat or Tea-Time Mat Give-Away. Get a totally Unique, hand-made, and custom-ordered Mug Mat or Tea-Time Mat for your mom.  Buy a lovely tea cup or mug to match it, and your gift is totally unique.
I have a bunch and can make more, so if you don't win, just let me know which one or ones you want.
You could get your mom a couple of mats and she can have a nice tea party with her friends.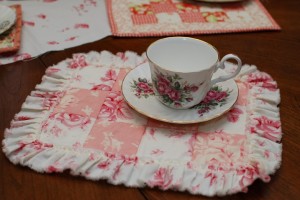 All you need to do to win one of my lovely mats, your choice,
1) is leave me a comment about your mom, or whoever you want the mat for, and which mat you like the best (Here are pictures of the rest of my mats)
3) share this giveaway on your  facebook page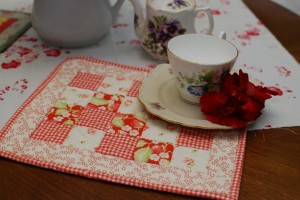 4) and an extra entry if you blog about this giveaway on your blog.
Come back here and leave me a comment for each separate entry. (If you already "liked" my facebook page, still come back and put it in a comment for a chance to win)
(P.S.  I will ship free to US and Canada, but anywhere else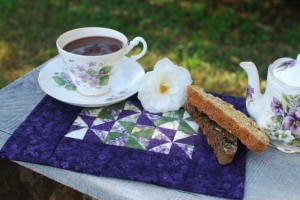 you have to pay the shipping (at least part of it) if you win)
Give-Away will close on Monday the 7th of May, to give enough time hopefully for the shipping in time for Mother's day.
Tea-time mats are a little bigger than the Mug mats.  Mug mats are about 7 1/2″ by 10″ and the Tea-time mats, with the ruffle, are about 9 1/2″ by 12″.
Tea-time mats are 15 dollars a piece and mug mats are 12.
Enjoy getting your mom something totally unique and something so pretty this Mother's Day, whether you win, make one or a couple yourself, or order some from me.