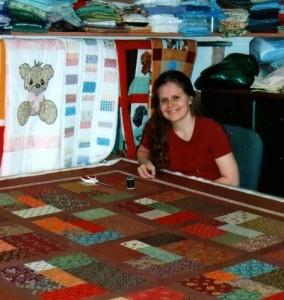 1. Hand quilting
2. Finish your incomplete quilt
3. Custom make your quilt–just show me a picture, or describe it, or I can give suggestions
4. Hand embroidery,camera strap covers, bags, purses, curtains, placemats, quilty coasters, table runners, pillow shams, let me know what you are considering.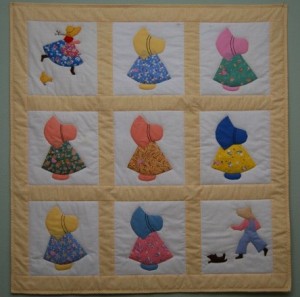 I have a family heritage where for
centuries the women have been making quilts for their households.
Therefore, I learned to sew and make quilts at a young age. Over the years I have enjoyed making many quilts for my friends and family. It would be my pleasure to make you a quilt.
Choose a design, the colors, and size and you'll have a beautiful hand-made quilt, made with tender care, for years to enjoy.
I have finished many quilts at various stages.  Some I finished piecing the top and then hand quilted it.  Some I just added a border and then hand quilted it.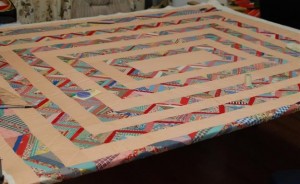 I have hand quilted many lovely heirloom quilts, which were pieced around the early 1900's.
This strippy quilt was paper pieced using newspapers to sew the pieces on to prevent the small fabric pieces from stretching.  Then when the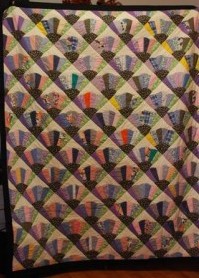 whole top is done, you take off the newspaper backing.  From that we found out more or less when the top was pieced, which was around 1950.  It was pretty neat.
This fan quilt was also made around that same time, but different owner.  We added a black border to bring out the black in the quilt therefore making it a more manly quilt.
I can also make your t-shirts into quilts, or put your photos into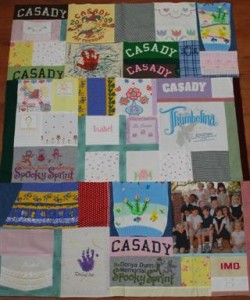 some memory quilts.  Add memorable baby clothes, or even some clothes and pictures of each year of your child's early life, as a memory quilt.
Or, if a loved one has passed and you want to make a quilt from their clothes as a memory quilt.
I custom make quilts, the way you want them. I do a lot of sewing projects, bags, curtains, camera strap covers, even some bridesmaid dresses.  I don't specialize in this since it's not my favorite part of sewing, even though I can do it well.  I love to hand applique, and hand embroider.
Please contact me via gmail or use the contact form below.
My address is novacek74 at gmail dot com.
[si-contact-form form='1′]