Some months ago I saw a good friend of mine, Rosella's Lane, had made some gorgeous camera straps.  I love her style and the look of them.  I might make one similar to hers someday, but for now, I had another brilliant inspiration.  At least I think it is so :).
I don't often buy the very pretty, better quality quilting fabric, but recently in my following of various Moda fabric designer blogs, I have been drooling over some gorgeous fabrics.
So one day, my husband made an extra 40 minute trip to one of our local quilting fabric shops and bought me a BIG gift card.  It was totally unexpected, yet such a very pleasant surprise.  He said it was a late birthday/anniversary gift.
One of my sisters was visiting and she wanted to make a feathered star quilt,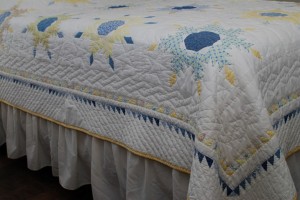 which I have been wanting to make myself. One of our other sisters had made one some years ago.  So, we went to the quilting fabric store, and I selected some lovely fabrics for my quilt.  I added some of my own pieces at home, and I am going to have one gorgeous quilt.  I will show you some of that later.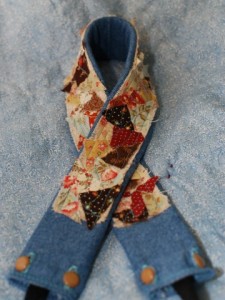 Okay, let me get to the point here.  As I was cutting out many of those little blocks for this quilt, there were many tiny little scraps.  Too little to sew into another block for a quilt.  I hated to throw them away, so this was my idea.  Sew them crazy like onto a camera strap.
I love it.  I can't stop looking at my lovely new camera strap.  Quite vain of me, heh?? 🙂 So, here's a little tutorial slideshow.  Enjoy!!
Press PAUSE whenever it's going too fast for you.