I decided to begin this blog by showing you some quick pictures of my sewing area.  It's actually my mom's sewing room, which I get to use and share with her.  I do use it more than she does.  Often when I'm in there sewing, she joins me and begins working on some of her projects as well.
I enjoy working and sewing with her, or even when some of my other sisters come over, we sew together on various projects.  Sometimes each on his own, or sometimes we help each other with our projects.  So much fun.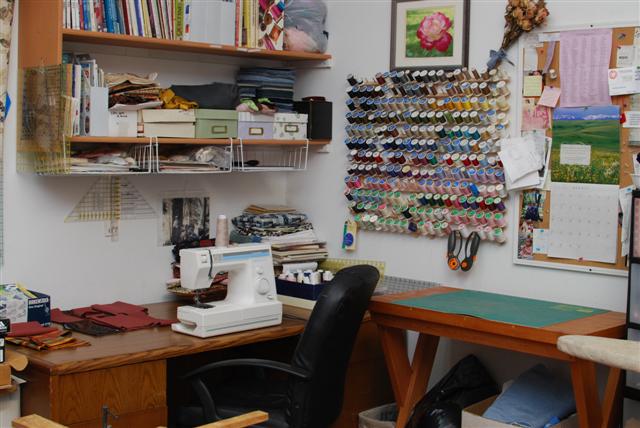 This is my corner of the room.  My sewing desk.  It's solid and sturdy and is ultra heavy.  So there is absolutely no vibrating when I sew.  I did some quick organizing yesterday to take these photos, but still need to and want to do a lot more organizing.  I have some pieces cut out and ready to sew on the desk, for a couple of shopping bags I like to give as gifts.
My cutting table, just the right height, made by my brother in law for my birthday some years ago, is on the right hand side.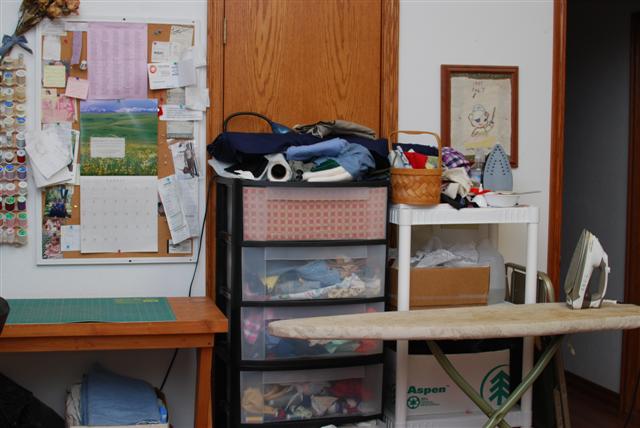 Here's my ironing board, close to the entrance to the sewing room.  As you see there are some areas that still need organizing.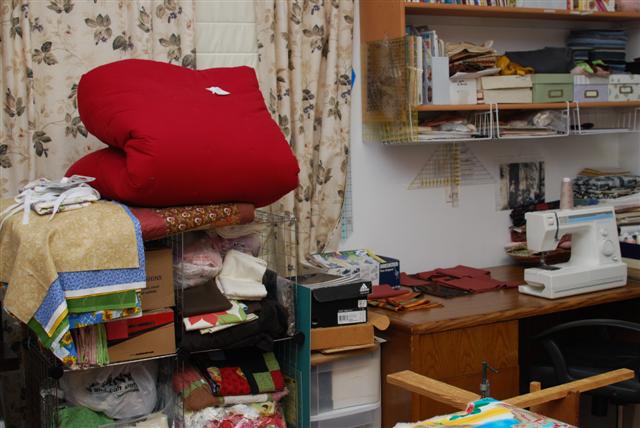 To the left of my sewing desk, is cubicle shelf with projects in bags all at various stages of completion.  The big red comforter is a customer's waiting for her to pick it up.
At the bottom right hand corner you see a corner of my quilting frame.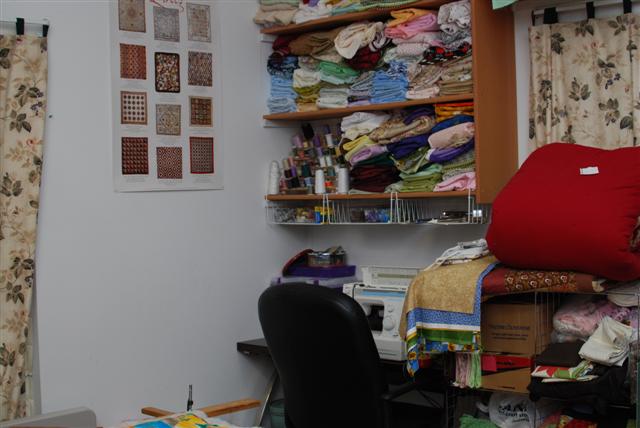 Here's my mom's corner.  Her fabric stash is above her work space.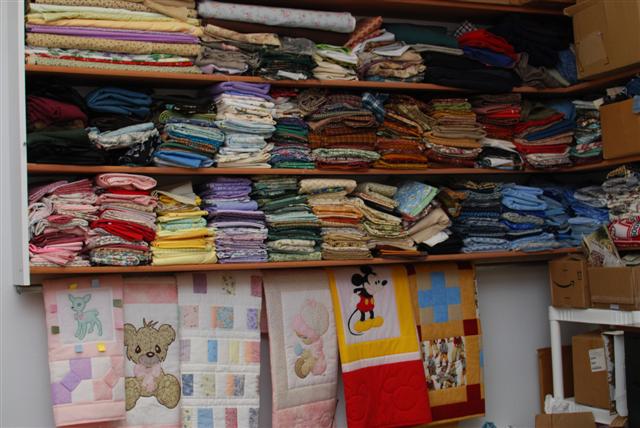 Then this is on the opposite wall.  Shelves to ceiling.  This is a big part of my fabric stash.  There is some in boxes below those quilts that you see hanging.  I'm still working on organizing the rest of my fabric stash.
Those quilts I have hanging on that bar below my fabric stash are ready to be sold, or given away when I need a quick baby gift.
I will post some more pictures of my sewing area once i have it organized better.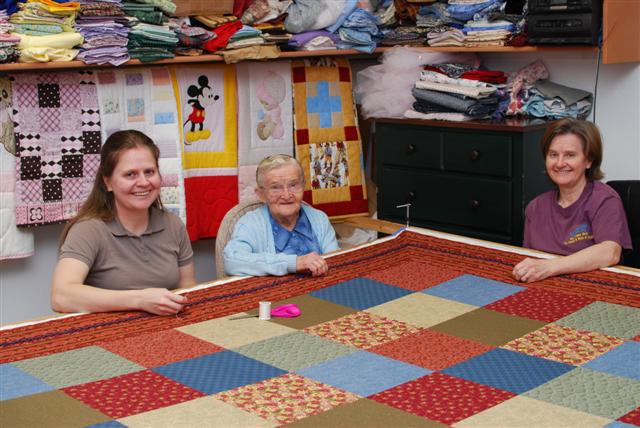 Here's one with my mom on the right, then my grandmother (my mom's mom) and then me around a quilt.  I do miss my grandmother.  She lives in Belize, Central America and I don't to see her very often.  This picture was taken a couple years ago when she and my grandfather came to visit us.
I long to go visit her again, especially since she recently had a stroke and has to learn to speak all over again.  Even though she's about 84, she is spry and with a strong desire to live and learn.  She's is learning rapidly.
Well, I hope you enjoyed a tour of my sewing room.  A room where I love to create, dream and have fun and even relax.